View Larger Map

Ueno (上野) is a famous district of Taito, one of Tokyo's 23 special wards. It's perhaps best known for its park, home of the fantastic Ueno Zoo, as well as Ueno Station, which links to the Ginza and Hibiya lines on the Tokyo Metro, The Yamanote line, and several Shinkansen lines which allow travel throughout north-eastern Japan.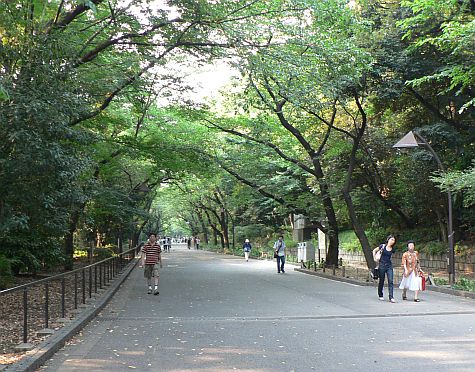 Also lying within Ueno Park are the
Tokyo National Museum
,
The National Museum of Western Art
and the Tokyo National University of Fine Arts and Music, as well as a large number of beautiful stray cats. It's a lovely place to while away a few hours aimlessly, or there's plenty to do in these attractions if you're feeling more purposeful. The way is paved by a series of ornate lanterns, which are lit up every night. These alone make it worth a visit. It's almost magical to sit in the dusk and watch the lights shimmering into life, watching stray cats weaving in between feet, trees and benches.
There's also sadder side to Ueno, as much of the city's homeless population has set up residency here in makeshift towns among the park's ponds and gardens, living in 'tent cities' of blue tarpaulin.