Senso-Ji (浅草寺, Sensōji) is Tokyo's oldest and most significant Buddhist temple. It is situated in colourful and traditional Asakusa


View Larger Map

An outer gate, known as the Kaminarimon (Thunder Gate) encloses the temple and the tradional, and constantly busy shopping street known at the Nakamise Dori.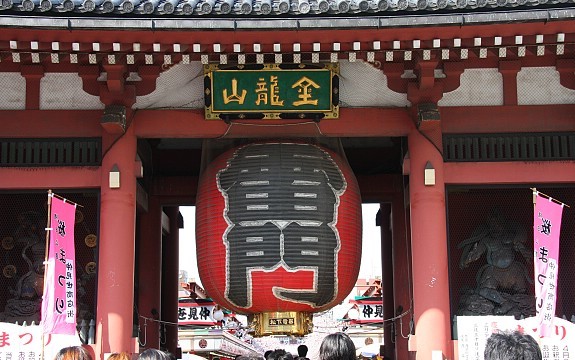 Typical Japanese souvenirs such as fans, used and new kimono, lucky frogs and yukata can be purchased here, as well as traditional snacks such as
osenbi rice crackers and dango.
The Hozomon (Treasure-House Gate) is the second of the temple gates, and beyond it lies the main temple hall and the five-storied pagoda.
The temple grounds are lovely to wander about in - with lots of interesting structures, statues, shopping and people-watching to take in.
Information
The temple grounds are always open. The temple hall opens 6am-5pm April to September and 6.30am-5pm October-March. The Nakamise Dori shops generally open 9am-7pm, however this can vary depending on the shop.
There is no admission fee to access the temple grounds
Official website: http://www.senso-ji.jp/
How To Get There
Senso-ji is easily accessible from Asakusa train station, which is linked to main train stations by the Ginza Metro line.